Introduction
Free App Lock is an innovative application encryptor, which allows you to lock any executable programs with password from non-authorized execution to block other clients from modifying the variables stored in the Application object to protect your privacy.
---
Step 1. Select an EXE File
Launch Free App Lock and click "Select" to select an .exe file you need to encrypt. You can also open the directory of the selected .exe file by clicking"Browse". You can check "Back up the current executable file to *.bat" for security purpose. If some unexpected errors occur when encrypting, this option will help you restore the original file.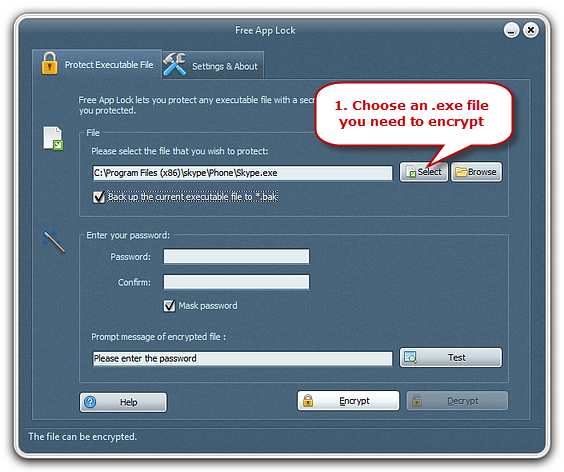 ---
Step 2. Enter Password & Start Encryption
Type the password in "Password" box and retype the password "Confirm" box for verifying purpose. Uncheck "Mask password" to show the password if needed. Customize your own prompt message of the encrypted EXE file and click "Test" to have a preview. Click "Encrypt" to encrypt the EXE file and the encryption will be completely within several seconds.